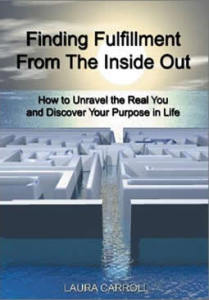 Discovering purpose is so much more than doing what we love and hoping the money will follow. For many of us, what society has taught us about finding purpose leads to dead ends, or no longer satisfies. Finding Fulfillment From the Inside Out lays out a path to a deeper, sustaining experience of personal purpose. You will learn… what purpose truly means, how to discover it, and how to make it come alive in your daily life.
This book will guide you through seven steps that include stories of people from a variety of backgrounds who have completed the process. Complete with exercises, it is designed for you to use as your tool to uncovering what  living a life rich in purpose and meaning means to you, and opens the door to truly living your best life. I wrote this before  Families of Two, and it reflects my years of counseling many people in career and job transition.
Buy it here in the LiveTrue bookstore!