What a gem of a book.  As author, anchor/reporter, Ann Nyberg writes, "The vignettes in this book are a true gift for anyone who wants a glimpse inside the real life of Katharine Hepburn – Connecticut gal who rose to the stars."  I'll say.  In Remembering Katharine Hepburn, Nyberg writes that she set out to get different perspectives on Hepburn, find out more about the real person and what made her tick from family and those who knew her best. And in this tight 157 page book, she delivers.
The introduction gives a wonderful summary of Hepburn's life, teasing us for the stories to come.  As someone who has lived and written about the childfree choice for many years now, I have admired Hepburn for making this choice in a time, when, let's just say, it was far from accepted. Right at the get-go, Nyberg highlights this fact about Hepburn, who was quoted as saying she would have been "a terrible mother because there would have been no time for little ones." While she did not become a mother herself, in this book we learn how she "she looked out for and mothered many people."
Fenwick, Family & Film
Nyberg gives us a a lovely collection of nuggets from Hepburn's Fenwick days, family affairs, and her film career. We get a real flavor for those who knew her best. One storyteller is Ellsworth Grant, a writer, filmmaker, former mayor of West Hartford, and husband to Hepburn's sister Marion, who "had a ring side seat to most of the legendary actress's very long life." He recalls endearing things Hepburn told him over the years – here are just two of my favorites:
"Back then, everyone call me Kathy. They might as well have called me Tom. I was a tomboy. I could out dive, out swim, out run, and out climb anybody."

"I am, totally, completely, the product of two fascinating individuals who happened to be my parents. They gave me the values and the sense of self-worth and drive that I needed.  Life at our house was always surprising; we entertained famous people. Mother and Dad argued about politics. At the dinner table every conceivable topic was discussed – venereal disease, feminism, Marxism, Darwinism, and even crime."
Delicious Details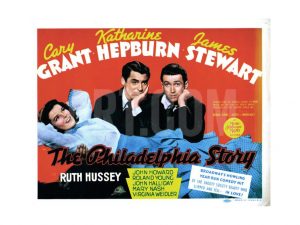 The vignettes and stories reveal a range of delicious personal details about this great woman – from how she dined on steak and ice cream before every performance of The Philadelphia Story, and how she adored chocolate pecan turtles at Mondel Chocolates in NYC (which still exists today), to her activist side. We get the scoop on how Hepburn came to narrate the documentary, The Long Tidal River, which helped inspire legislation to take this river near her home from a "beautifully landscaped cesspool" to nearly half of the river and its tributaries ending up restored for recreational use.
Other details might inspire envy. I know I felt it when I read how Nyberg ended up with a red coat once belonging to Hepburn! What I'd give for that.
Speaking of clothing – Mark Bombaci, who had a farm that would become a favorite of hers – talks about her choice of dress for flower picking (she loved flowers) – "She looked exactly the way you saw her in photographs… She wore pants and long sleeves…always have a hat and scarf, just so very casual." Can't you just picture it.
Nyberg also highlights how Hepburn came to be on The Dick Cavett Show. I relished learning the story behind the pre-interview tape of fun and games with the crew on set, and the actual taping of the show, which goes down as a "marvelous piece of television history."
Endings
As the book rounds the bend to her final chapter of life and death, we learn what happened to her family's treasured family home in Fenwick. Nyberg warmly tells how Frank Sciame, a New York builder and former chair of the New York Landmarks Conservancy – "a guy who understands the history of buildings," and his family made the home "the best it could be in a modern world, but at the same time, preserve its heritage."
Her end of life details captivate to the last, sweet page.  Nyberg also highlights sassy, wise and brutally honest quotes from Hepburn throughout, and the array of photographs of her – in a word, fabulous. Remembering Katharine Hepburn leaves you wanting more of this amazing woman.