Review by Brit McGinnis
Rewild Yourself: Making Nature More Visible in our Lives by Simon Barnes teaches people how to integrate more nature into their everyday lives. Not strictly a book about hiking, birdwatching, canoeing, or traveling for the sake of interacting with nature, Rewild Yourself focuses on the important act of paying attention to nature. If you want to gently integrate more nature (or more natural elements) into your life or feel like something may be missing in your day-to-day life among machines and human-made environments, give this book a read.
A Naturalist Experience
Primarily known for his books about birdwatching, particularly How to Be a Bad Birdwatcher and Birdwatching With Your Eyes Closed, Barnes brings his naturalist experience to readers who wouldn't ever consider themselves naturalists. He insists that one does not have to spend a lot of money to enjoy nature fully, encourages us to pay attention and be open to learning.
In a series of vignettes, Barnes speaks about gradually inserting oneself into nature without feeling overwhelmed or like an intruder. He tells stories about his trips around the world and the ensuing encounters with animals, but does not write in a voice that wants to show off. Rather, Barnes speaks like someone who can't believe his luck to just explore and exist in these beautiful places. Here he describes a childhood trip in his chapter on swimming:
On holidays in Cornwall I would enter the rock pools, pull on my mask and trudge off in search of blennies and sea anemones: though it wasn't just about seeing them. I wasn't a fish-spotter, or an anemone-spotter: it was all about being among these alien creatures, being part of the same environment. Being a fish, inhabiting another world.
In many sections of the book, Barnes stresses the importance of sitting still and quiet. Practicing this may seem incredible to those of us who are used to constantly moving and listening to music. Barnes has cultivated doing this himself, and doesn't speak from privilege or ignorance of the modern world.
The Urge to Experience Nature & Be Part of It
He writes in a manner that resembles classic British fiction stories (which he often quotes from), which can feel meditative at times, but can also come off as trite and preachy. Barnes loves to source the Harry Potter and Chronicles of Narnia series in particular, but the quotes from these stories (as well as the beautiful screen print style pictures of animals) do well to set the mood of each meditative chapter. Barnes also speaks primarily to British audiences and sometimes gives Britain-specific information about animals and plants, but it largely doesn't distract from the book's main thesis. It's not like deer and blackbirds only live in the British Isles.
A strong choice for readers looking for advice on how to find the nature in their own neighborhood, Rewild Yourself speaks to the innate urge to experience nature and be a part of it, something not many people may feel they have the words to describe. Major societal trends predicted for 2020 include rewilding and "getting back to nature." Rewild Yourself may be the book that brings many people back to the outdoors.
Thank you, Brit!
****************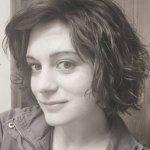 Brit McGinnis is an author and editor from Portland, OR. She writes on Medium, The Salve, and covers weird news for The Stacker. She was named a Hero of Haddonfield by the filmmakers behind Tales of Halloween in 2014.