I recently asked childfree author Molly Peacock if she would answer few questions about her writing she'd be willing to share here. Thankfully she agreed! She is a poet, and author of a memoir and an upcoming biography of an amazing woman from the 18th century–with no children.
I asked her how being childfree influenced her story in her memoir, Paradise, Piece by Piece, how it has shown up in her poetry, and how it influenced the life of Mary Delaney, the subject of her upcoming release, The Paper Garden…
Here is what she says:
"When I was three, I decided not to have children."  That's the first sentence of my memoir, Paradise, Piece by Piece. which was published in 1998.  Ultimately I knew I had made the right choice for myself, but it amazed me that it all started so young.  Childhood the is driving force behind all our roads, taken and not taken, isn't it?  It certainly drives my poetry, even the poems of The Second Blush, my most recent book from W.W. Norton and Company.  It's full of poems about my marriage.
I finally got it right at 46 and married my childhood sweetheart.  Of course this huge change made me return to my choice not to have children and confirm it. In fact, I've revisited my decision many times. I don't think this is something a person opts for only once in life.  Reviewing it makes me understand the paths I've taken from perspective after perspective.  I feel it is a privilege to be in this family of two.
R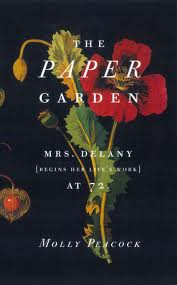 ecently I wrote The Paper Garden:  An Artist Begins Her Life's Work at 72, about the amazing 18th-century woman, Mary Delany, who came to invent collage, a brand new art form, hundreds of years before Picasso and Braque.  How did she do it?  I wondered, and I tried to track all the instances of creativity in her life that I could find—from the age of six to the day she died at eighty-eight.
Delany, too, did not have children.  (There's no way to know it was a choice, but she made it clear in her letters that she did not think a traditional life was all it was cracked up to be. " Matrimony!  I marry!  Yes, there's a blessed scene before my eyes of the comforts of that state.—A sick husband, squalling brats, a cross mother-in-law and a thousand unavoidable impertinences. . . but stop my rage!  Be not too fierce.")
By the time Mary turned forty-three, she had fled London for Dublin and a flourishing mid-life marriage to Jonathan Swift's friend Dean Patrick Delany, in which they pursued all their enthusiasms, including their eleven-acre garden.  They became a family of two.  It was after the death of the Dean and after her beloved sister's death that Mary, in a state of grief, stared at a red geranium, and watched one of it's petals drop to a table next to a ruby-colored piece of paper.
Mesmerized, she picked up her scissors and began to cut the petals out of the paper, assembling them on a black background.  "I have invented a new way of imitating flowers," she wrote in 1772, and proceeded over the next ten years to make 985 cut-paper botanicals, all jewel-like on deep black backgrounds, each one a kind of portrait.
To make a big choice in life is a radical invention.  She's my role model, and I'm grateful to her, and to my scholar-husband, who helped this poet write her own story, and also the story of Mrs. Delany.
Thank you Molly!