This month I had the pleasure of attending and speaking at the first Not Mom Summit. Over 100 women without children by choice, chance and circumstance gathered for keynote speakers, breakout sessions, and socializing. Of the many wonderful things that happened during this conference, I was struck by three things in particular:
Whether by choice, chance or circumstance, women without children wanted to find and connect with women like themselves.
Women without children by choice do not want to have children; women without children by chance or circumstance come from a variety of situations and circumstances, from women who want children but have had trouble conceiving, to women who are single and want to co-parent, and women with physical issues that would make for high risk pregnancies.
No matter how they arrived at having no children, women at this conference talked openly and honestly about the "Not Mom" aspect of their lives. They listened to many stories and life accounts that connected them as women who will never become mothers. Together, they learned about different aspects of managing their lives and relationships as women without children.
How they became women without children may be different, but they share many of the same experiences.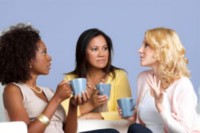 Women without children by chance or circumstance share the experience of grief and loss. Many women told moving stories about the challenges of not being able to conceive, deciding when to stop IVF, making the decision not adopt, or wanting to wait with the biological clock ticking to find love and lifetime partnership before having children.
Those who have chosen to have no children spoke of their own stories of grief and loss. Friendships change – even end – when one woman has children. They often also experience heartache from loved ones who just aren't able to accept that they do not want to become mothers.
No matter how they got there, women without children know what it's like to live as outsiders, particularly when it comes to the "Club" of motherhood. Women without children – no matter what the reason – share that they will never experience being part of a group that our pronatalist society so deeply reveres.
Women without children also share the experience of being judged and misunderstood. Society sends the message there is something "wrong" with women who can't get pregnant, can't find Mr. Right, or just don't feel what they're supposed to when it comes to a longing to have a child. At the Not Mom Summit, women reveled in the truth – there is nothing wrong at all. They share something bigger – that the motherhood can be one aspect of womanhood; it's not necessary to live fully as a woman.
The Not Mom Summit demonstrated the power of community-building.
In the last 15 years, the growth of the internet has fueled an explosion of exposure, education, and discussion on people without children. It has also led to the creation of childfree and childless communities like never before. These communities have largely developed on separate tracks.
These communities came together, not online, but in person at the Not Mom Summit. The ability to unite, understand one another and hold space for everyone's experiences and stories was nothing short of extraordinary.
In just two days, a community of women formed at this conference like never before. Attendees ages 26 to 69, (average age: 45) from 14 states in the U.S., Canada, England, China, and Iceland took in keynotes by Melanie Notkin, author of Otherhood: Modern Women Finding a New Kind of Happiness and Meghan Daum, author of Selfish, Shallow and Self-Absorbed: Sixteen Writers on the Decision Not to Have Kids. They learned from sociologist Amy Blackstone, Ph.D. about women without children in our society today, and participated in breakout sessions spanning a range of leader expertise, including counselors, authors, financial planners, MDs, philanthropic leaders, senior living specialists, and more. This first-time ever gathering exceeded anything attendees had imagined.
Thank you, Karen Malone Wright and her team for this Not Mom Summit. May it be the first of many for a segment of our population that should not be discounted. The U.S. Census Bureau has indicated that in 2014: almost 50% of women ages 25-29 had no children; 29% ages 30-34, 18% ages 35-39, 15% ages 40-44, and 17% ages 45-50 had no children, respectively. Sliced another way, according Melanie Notkin, 19 million women in the U.S. ages 19-44 don't have children by choice, chance or circumstance.
The women at the first Not Mom Summit and the millions more in the U.S. and the world give voice to the many roads that lead women not to become mothers. Together, they exemplify an expansion of what it means to be a woman in today's society.