There's nothing like a great true story. Sooner or later we all have one that may sound unbelievable, but it's true. Tracing old steps in the Northwest recently sure brought one to mind from my life. It starts with a little cabin on the Sandy River at the base of Mount Hood, Oregon.
While living in Rhododendron in a 1930s cabin (on three forested acres split by a river) some years ago now, my husband and I had always wondered about an old cabin across the road from us that looked abandoned. We learned later it was built in 1930. In the 1940s, the Rathkey family bought it along with its unique wood and rattan furnishings. Each summer Helen Rathkey's favorite thing to do was to stay at the cabin with her sister, Gertrude Eaton. Helen was an artist, and loved to paint at this inspiring spot. Gertrude worked hard at caring for the place. Neighbors and family members talked of Gertrude's spiritedness and boundless energy; even in her 70s Gertrude was seen on the cabin roof, sweeping it clean.
In 1964, there was a big flood, and the sisters were lucky; of the cabins along that stretch of the Sandy River, their cabin was the only one to survive. When Helen died, she willed it to Gertrude. As Gertrude got older, she came to the cabin less and less. For years it mostly sat alone, with scotchbroom growing up around it. Our neighbors, who had known Gertrude, knew we had always been curious about what looked like a once-quintessential cabin. When Gertrude went into a nursing home, our neighbors contacted us and put us together with the executor of Gertrude's estate.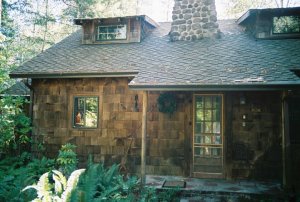 We decided to buy and restore the cabin. Seven months later, after working on place on many weeknights and most weekends, we had brought the cabin back to life in keeping with its old style charm. In the spirit of Gertrude, we named it Gertrude's Place, and had a cool sign made for all to see out front when they drove by . We rented it nightly for several years, and many people enjoyed this special place.
After awhile, especially around the time when Families of Two came out, managing the cabin became a bit too much to handle. We sold it to a lovely family who "got" Gertrude's and the specialness of one of the few true vintage cabins at Mound Hood. The Bounds family rented Gertrudes for a number of years before something tragic happened.
In 2011, there was another flood. Here is an amazing video done by Alexandra Erickson that shows what happened that January day on the Sandy River.
Sandy River Flood from alexandra erickson on Vimeo.
At the 1:00 minute mark of this video you see a patio and home dangling along the river's edge. That was Gertrude's! It was not long after that moment the whole cabin went down river.
Withing moments, all the years, all the hours of restoration, all of what made Gertrude's an irreplaceable vintage cabin – Gone.
During my latest visit to Mount Hood I went back to the spot where Gertrude's stood for so many years. Now it is a built up "pad" of sorts, never to be built upon again. Even if you could, it would never replace Gertrude's Place. I stood on the pad, memories flooding as I looked upstream, part of me still just not totally believing it's truly gone.
Stories like these bring home so many messages and lessons, starting with how easily things in our lives can be there, and so fast – gone – forever.
Do you have a "Like That- Gone!" story from your life?