I am so happy to share this news! Canadian Filmmaker Magenta Baribeau, and the 2014 Childfree Woman of the Year, has won the 2016 Best Feature Film Award for her film, Maman? Non merci! (roughly translated as Being a mom? No thanks!) at the London Feminist Film Festival!  Here is an excerpt from an interview I did with Magenta in 2014 on her film:
Interview with Magenta Baribeau
What inspired you to do this documentary? 
I started thinking about doing a documentary film about women who chose not to procreate in the fall of 2008 after hearing one too many "Oh, you'll change your mind!" comments said to me strangers after I answered their question about my not wanting any kids. I started wondering if I was the only thirty year old in the world who did not want to have children. I realized there was a lack of representation of childfree women in the media and searched for documentary films on the subject and couldn't find any. That's how I got the idea to make my own.
How did you find childfree people to interview in Canada, France and Belgium?
I decided to interview various people from the Western world about their disinterest in maternity because I wondered if there was a difference in perception between various cou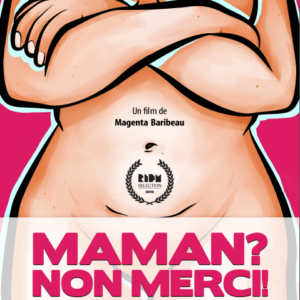 ntries. I also opted for Western countries because I knew that there would be such a great difference in opinions and laws if I were to include, let's say Africa and Asia, that I'd have enough material for 3 more films!
So I chose France, Belgium and Canada mostly because my first language is French and I wanted to make a French-language film (with English subtitles). I noticed that a lot of books on the subject were written by French and Belgian women and that's how I ended up flying across the great pond to interview them.
Furthermore, after deciding to make a film on the reality of childfree women, I wanted to meet as many as possible, so I started a blog on the subject and got great responses from all over the globe. I interviewed close to fifty women in and around Montreal and finally selected about fifteen Canadian women to showcase in my film.
Why have you interviewed childfree people and people who changed their minds and became parents?

My film is about childfree women, women who really know that maternity is not for them for various reasons. They are the main focus of my documentary. I chose to film women instead of men or couples because in my research, I found out that there is a much greater pressure to procreate exerted on women than on men. So I thought I'd give them a voice.
But to put their experience into perspective, I had to also interview couples and even a former childfree woman who decided at age thirty-seven her reasons not to have any children weren't valid anymore. I thought it important to add her views to the film, not because, like most people think, we will sooner or later "change our mind and want to become parents," but because there are as many reasons not to want children as there are childfree people. Every experience is both unique to each individual and shared by other childfree people around the globe.
In this interview, Magenta also remarked:
I've learned a lot from the process, not only artistically speaking, but also on a personal level. I've met incredible people on this journey, people who believe in my film and have contributed time and money just because they think this subject ought to hit the festival circuit and be shown in theaters because not wanting children is still a taboo in 2014.

The film has received a lot of interest from local and international media, which is making me hopeful that maybe one day, not wanting children will be regarded as just another lifestyle that deserves respect, which is the very subject of my film.
This recognition of your film contributes to the path of acceptance of the childfree choice in society! Congratulations, Magenta Baribeau!
Check out the film trailer Here