I recently had the pleasure of asking essayist Meghan Daum about the art of essay writing. Meghan is the author of four books, most recently the original essay collection, The Unspeakable: And Other Subjects of Discussion. She is also the editor of a collection of essays, Selfish, Shallow & Self-Absorbed: Sixteen Writers on the Decision Not To Have Kids. Her other books include the essay collection My Misspent Youth, the novel The Quality of Life Report, and Life Would Be Perfect If I Lived In That House, a memoir. Here's the Q&A:
What inspired your interest in writing essays?
I think I was always an essayist deep down. When I was in high school I was always trying to fuse personal experiences and observations into academic papers. I'd try to sneak in contemporary pop culture references when writing a paper about Ethan Frome or something. I didn't always pull it off, but I remember feeling very jazzed about juxtaposing seemingly unrelated ideas and trying to come up with some sort of counterintuitive conclusion.
Still, the idea that an "essay" could be a creative, imaginative genre didn't occur to me until my 20s when I was getting my MFA in writing. I'd originally gone there to pursue fiction writing. It was the early 90s and "creative nonfiction" didn't really exist yet as a genre—or at least it was in its nascent stages. I knew I wanted to be a writer but I thought that meant you had to choose between being, say, a newspaper reporter or a fiction writer. So I wrote short stories—mostly mediocre Lorrie Moore knockouts, as all women writers seemed to do during that time—and I was feeling kind of lackluster about it until I took a nonfiction workshop and stumbled on the personal essay form.
I'd always had an interest in journalism and cultural criticism and here, suddenly, it was like these genres could be combined with narrative techniques more commonly found in fiction. And everything just clicked. That's not to say that I was suddenly writing good essays. But it was like I tripped and "found my voice," as they say.
What makes a great essay?
What makes a great essay is a writer who's willing to be honest. That's not to be confused with being exhibitionist or gratuitously confessional or shocking. What I mean is that the writer should be trying to unpack an idea or feeling that perhaps many people have wondered about or felt but, for whatever reason, aren't able to say out loud or figure out all the way.
To me, that's really the only hard and fast rule: be honest. What I love about essays is that a single essay can incorporate so many different forms. They can include memoir, criticism, reportage, satire—and the list goes on. An essay can be a report from the battlefield in Afghanistan or an extended comedy riff. The best standup comics are great essays. George Carlin, Lenny Bruce, Louis C.K. all did and do something very close to essay in that they're looking at the culture in a counterintuitive way.
What is one of your favorite essays?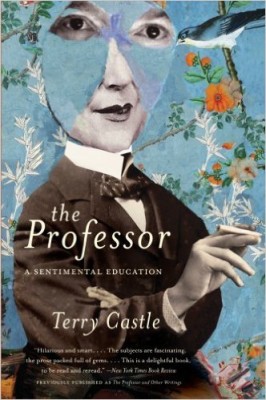 I love the essays in Terry Castle's collection, The Professor and Other Writings. I especially love her piece "My Heroin Christmas" about the jazz saxophonist (and heroin and sex addict) Art Pepper. It's a fascinating way to approach a biographical essay in that it's about Castle's experience of reading Pepper's autobiography while home at her mother's house for the holidays. It's a technique you'd think could never work but she pulls it off in a marvelous way that not only tells us about the life and demons of this musician but also talks about chaos in her own upbringing.
She also lets us in on her obsessions. When I teach, I often advise my students to "start from a place of obsession" when you're seeking a worthy essay topic. It can be fruitful to ask yourself, "Why am I obsessed with such and such a thing?" and then make it the mission of your essay to convey the nature and extent of the obsession and then unpack the various reason the obsession exists. Castle's work is frequently all about the obsession—and the scrapes that obsession that can get us into. And she's willing (eager, in fact) to make fun of herself, which is key.
For those interested in developing their essay writing skills, what advice would you give?
I would advise what I just touched on above—examining and mining your obsessions. But I would also, of course, advise reading a lot of essays and just trying to internalize the writer's voice and ideas. A great start would be Joseph Mitchell's Up In the Old Hotel, which is comprised of essays and articles he wrote for The New Yorker from the 1930s through the early 1960s or so. Joan Didion's Slouching Toward Bethlehem is a classic, of course.
I would also advise trying not to get overwhelmed by thinking you have to get everything exactly right or pack every idea you've ever had into one piece of writing. One way to do this is to keep in mind that the word essay means "to try." Going back to the 16th century with Montaigne, who's generally regarded as "the first essayist," the essay's job was not to declare but to suggest—to try to figure something out or look at the world in a new way.
My goal, when I write an essay (and this includes my newspaper column, which I see as mini essays) is not to get the reader to agree with me but to simply invite the reader to think along side me as I mull something over. There should be a sense of intimacy between writer and reader. And you get that by going back to what I said earlier about being honest. And also having a sense of humor about yourself and not taking yourself or your "I" narrator too seriously. Taking your work seriously is crucial. Taking yourself too seriously is generally a disaster.
****************
In addition to book writing, since 2005 Meghan has been an opinion columnist at The Los Angeles Times, covering cultural and political topics. Meghan has written for numerous magazines, including The New Yorker, Harper's, and Vogue. She is the recipient of a 2015 Guggenheim Fellowship and is currently an adjunct associate professor in the M.F.A. Writing Program at Columbia University's School of the Arts.
Thank you, Meghan!