I was delighted to see Henriette Mantel in last Sunday's Chicago Tribune Lifestyles section in Heidi Steven's piece, "Childless Writers Address Choice to Forego Parenthood."  Stevens closes with a great quote:
"No Kidding strikes me as Mantel and her fellow writers answering that call: inspiring the next generation to give a clear-eyed look at all the paths before them and to choose the one that leads them to know their truest selves and does the greatest good. For some, that may include parenthood. For others, it surely won't. There's no room for a stigma around that."
The article also brought to mind how I have enjoyed childfree books that are essay and interview driven. Of course, I like this approach – my book, Families of Two is a collection of interviews! There is nothing like hearing from childfree people, their experiences and their stories, straight from the horse's mouth.
As my review of No Kidding relates, Mantel does just that with a great collection of essays by women with no children.  I also went to an event in San Francisco where a few of the writers read excerpts from their essay, and inspired a candid and forthcoming Q&A with attendees.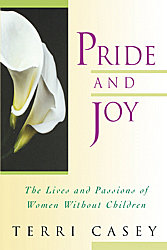 Another book on childfree women with an essay structure is Terri Casey's Pride and Joy: The Lives and Passions of Women Without Children. This is a great collection of interviews with 25 women from a range of occupations and lifestyles.
Wouldn't it be wonderful to see more of these kinds of books – ones that get up close and personal with real childfree and their lives?
Both No Kidding and Pride & Joy focus only on women – In Families of Two there are interviews with childfree guys, but they were interviewed some years ago now.  I'd love to hear from childfree men, say starting with Millennial guys today to those of ages similar to Mantel's gals. We also don't see essay or interview collections of just women in the Millennial to the late end of Gen Xrs age brackets.
Those interested in the childfree genre, what other kinds of books would you like to see out there?