One of the many misconceptions about those who have no children by choice is they don't like kids.  Many people don't realize that a lot of childfree not only like kids, but have made kids the theme of their vocation. The childfree are teachers, special educators, child care professionals, pediatricians, and social workers who work with kids, just to name a few.
What is their experience of having their professional lives revolve around children and having no children of their own? Here's a great piece by teacher Theresa Lembke …
First on The Unscripted Life, Lembke writes:
Deliberately choosing childfreedom and being a teacher of ten and eleven-year olds may seem like a contradiction to some. For me, it is simply the best of both worlds.
I remember teaching lessons on a small chalkboard at a young age with great passion. I often taught an imaginary television audience how to complete a variety of household chores, from cleaning a toilet to baking peanut butter cookies. I'm infatuated with the process of teaching and learning. I love to design a lesson, put it into action, and watch the results unfold. The days when a student asks a question or makes a comment and I realize he or she has truly internalized a lesson are the great moments I strive for.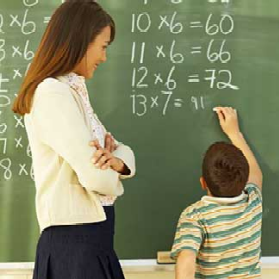 I take great pride in being a positive role model for children who may not get enough of it at home. My job as a fifth grade teacher allows me to wear numerous hats: motivator, coach, teacher, comedian, cheerleader, learner, and disciplinarian. And then I go home. I go home to a happy husband and hungry dogs.
Whether we watch movies on the sofa, go for a bike ride, have a double-date with friends, or have dinner on the deck and watch the world go by, it is up to us. We are not refereeing sibling disputes or assisting with homework…I did that all at work and am satisfied with that.
There are moments in teaching when I think that having children of my own would allow me to understand a child, parent, or situation better. For the most part, however, I feel my childfreedom allows me to be more committed to the children in my classroom. Any absences I have from work are for professional development or my own illness. I don't leave early to take my own children to dental appointments or use my sick days to stay home and care for a child.
I am able to easily adjust my schedule in order to come to work early or stay late to complete projects. I will not bear children of my own, and thus work to make the most effective use of the time I have with the students. I have a healthy marriage, an active social life, and weekends are strictly for play. This way of living allows me to be rejuvenated, enthusiastic, and committed when each new school week begins.
Prior to volunteering to contribute to Unscripted, I would have said that my childfreedom had no negative ramifications at work. However, as I began to ponder the topic, some concerns surfaced for me. I wondered what would happen if a parent somehow read this article online. Would they think differently of my ability to teach their child?
A student asked me about my lack of biological children just the other day. I gave her my standard at-work response of "Oh, twenty-five of you all day long is enough for me!" Would it be different if parents and colleagues read that I consciously chose this lifestyle? I imagine that a few people would suddenly doubt my ability.
Most who have interacted with me on a professional level, however, would feel similarly to what my principal expressed when I asked for her blessing to write this article under my real name…that I am a committed and caring teacher and that is all that truly matters.
Other childfree out there who have jobs involving kids, what is your experience?