A recent "Ask Polly" on The Cut shocked me.  A woman writes in with the question, "Should I have a baby?" and even though Polly assures readers the "column is not a parody," I admit I read the response more than once to be sure her advice actually seemed serious. 
Advice, or…
The woman who wrote in called herself, "To Baby or Not to Baby" (Like Polly, I'll call her "TBONTB"). She feels very ambivalent about having children to the point where she writes in all caps, she is "JUST NOT SURE." She expresses her worries, what she thinks she might like about parenthood, and what she finds terrifying about it.
Polly's advice? A real sack of pronatalist Kool-Aid. She essentially says – Take my word for it, you'll enjoy it. Do it! "Have a baby. Babies are great. You'll love it," she writes. Say what?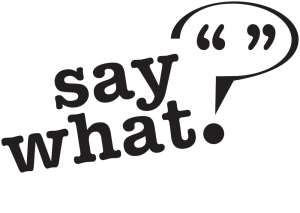 She seems to have TBONTB all figured out. Underneath those worries and fears (which "are not entirely unfounded") lives, yes of course, the truth – that she would indeed enjoy being a mother.
Polly advises TBONTB that "imagining a baby without having one is like imagining moving to a llama farm to raise llamas having never met a llama." As in – you can't really know the experience until you actually find yourself in it. But unlike a llama farm decision you can undo if you don't like it, approaching a forever life changing decision with the attitude, "You won't know what it will be like until you do it, so do it" seems – Risky.
She also explains how she decided to have children herself. Her mother "repeatedly insisted" that she would love it and that parenthood "was the best thing in the world." Yeah, don't think too hard about it; just do it because others important to you want you to do it. Really?
Polly goes further: "Have a baby. Then have another baby! Two babies are even better than one. Babies are the absolute greatest. Be brave. Trust that you will manage, because you will….Babies are f[expletive]ing delightful." Reading this kind of advice made me cry out at my computer screen: What a bunch of pronatalist hogwash!
Now I have read advice columns on this subject before, as I bet you have, that promote going ahead with it amidst doubts. But on The Cut? Not what I would have expected.
…a Recipe for Regret
Polly's last line reads, "You won't regret it." I beg to differ. Her advice seems more like a recipe for regret. What could actually help TBONTB? First, bag any messaging with the theme, 'take my word for it – you'll love it.'
This oozes of thinking we know the answer for her. We don't. Only she does. To help TBONTB get to her answer, we can suggest things that can help her drill down into the roots of her ambivalence and assist her in the self-exploration necessary for her to make this important decision.
What Could Truly Help "To Baby or Not To Baby"
TBONTB, may I suggest these resources that will help with this kind of digging:
The Parent Test, by Ellen Peck. Yes, it was published a while ago, but still serves as a great tool. A multidisciplinary group of educators, counselors, social workers and other experts created a series of questionnaires that inform people how they "compare (in terms of resources, traits, skills, interests, and expectations) with parents who have felt happy and successful in their role" as parents and with admittedly unhappy parents, many of whom unequivocally stated that given the choice again, they would not have children.
Motherhood, Is It For Me? Unlike any other book on this subject, it gives you a step-by-step process to follow to come to clarity. You can also work directly with the author, Ann Davidman, who has over 25 years of experience working with women struggling with the motherhood decision.
The Baby Decision: How to Make the Most Important Choice of Your Life, by Merle Bombardieri, MSW LICSW. Bombardieri has over thirty years of experience from her therapy and coaching practice and leading Baby Decision Workshops.
I'm OK, You're a Brat! Setting the Priorities Straight and Freeing You from the Guilt and Mad Myths of Parenthood by Susan Jeffers, Ph.D. This book came out some time ago too, but remains so relevant. In part Jeffers helps those in the midst of the parenthood decision get real about this choice. She demystifies what she calls "the top 10 mad, mad myths" about parenthood.
Jeffers also wisely discusses how "until you become a parent, there is no way to be sure you'll love the process of parenting." She posits that you will have a better chance if you can say 'yes' to statements like these:
Even though my life is good, I am ready to trade it for a different one.

I have spent a great deal of time with babies and have decided I love spending time with and taking care of them.

I've already experienced many things in life I always wanted to experience, such as travel, education, work.

I am OK with putting certain aspects of my relationship and other areas of my life on the back burner until my child grows up.
Separate From Social and Cultural Influences
I also have to suggest my book, The Baby Matrix. So much of the indecisiveness can involve social and cultural beliefs that get in the way of making the best decision.  This book will help you separate yourself from long-held social and cultural mindsets that tell us how to think about motherhood so you can more clearly figure out why it may or may not be the best choice for you.
"To Baby or Not to Baby," to get "the question settled," put aside column advice and what others think should be your decision. Instead, it may very well take a commitment to some inner work. Like many other women who have dealt with motherhood ambivalence, this work can lead to uncovering the part of yourself that already knows your answer.