Last year a lovely woman named Mara Altman contacted me and asked if I would be willing to talk with her about my book, The Baby Matrix. She is a freelance writer, and has published best-selling Kindle Singles. One of them, Thanks for Coming, "follows her on an adventure to find her orgasm," was translated into three languages and was optioned by HBO. She was on the fence about having kids, and was researching the parenthood decision for her next Kindle Single.
We met last September, and I liked her right away. We discussed pronatalism, the childfree, the childless, the motherhood decision, and shared personal stories. As she writes in Baby Steps, "we'd gotten kind of tight over that chat." Somehow I knew we would stay in touch.
I was excited to read Baby Steps and to see how she was doing with regards to her big decision. I read it in one sitting on a long plane ride. Baby Steps is very engaging, intimate and funny. My giggles started when she described me as "well-groomed, coiffed hair, smooth skin" and that "my pantsuit even had the creases ironed in"! Little did she know that my outfit was really the result of not having time to change to meet her after a meeting with a business client, and that I am actually a casual, crease-less kind of person! And smooth skin – why, that is what I was thinking about her! Too funny.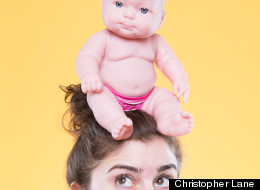 In her book she hits the high points of pronatalism, and writes of the question she asked me near the end of our lunch, "Would you pissed if I had a baby?" You can read my answer, but the gist I conveyed – well thought I conveyed was – not at all.  So I was surprised when I read that she wasn't sure I meant it. Mara, let's revisit that one, because indeed I did.
Mara takes us through her interviews with other experts, from Mary Ireland, psychotherapist and author of Reconceiving Women , Merle Bombardieri, the author of The Baby Decision to a hilarious account of her time with Linda, a birthing expert who gets Mara into "Empathy Belly." She also finally has "the talk" with her childfree Aunt Judy and Uncle Steve.
But it is her pilot test of what it is like to have an infant that got heads turning as I giggled on the plane. I won't spoil it here – I'll let you find out exactly what she decided to do to really get the feel of things.
So what did she decide – to have or not to have? I won't spoil the ending either. I will say, though, my prediction was right.
Whether she decided yes, no, or remained in maybe-land, one thing I know for sure: If everyone did a sliver of the research, the thinking and experimenting that Mara did to help her make her decision, we would have a lot more amazing parents out there!
Bravo, Mara – and I mean it.
Her Kindle Single is for anyone in the midst of the parenthood decision, or who will delight in an up close and personal – and funny memoir about this amazing woman's process.
In addition to writing, she is currently "dabbling in stand-up comedy!"